Homelessness Conference 2019 – Preventing Homelessness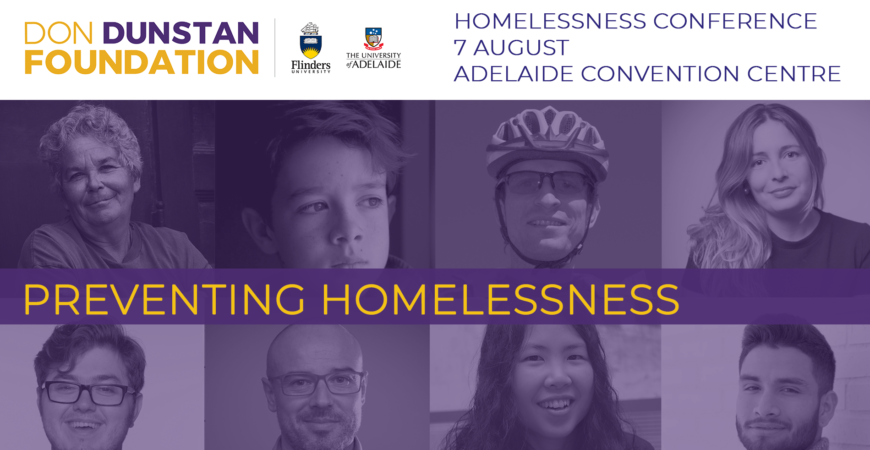 7 August 2019
8.30 am - 4.30 pm
Adelaide Convention Centre, North Terrace Adelaide
The Don Dunstan Foundation presents the 2019 Homelessness Conference – Preventing Homelessness
8.30 am – 4.30 pm | Adelaide Convention Centre
Now in its sixth year, the 2019 Homelessness Conference program will explore and evaluate practical and future homelessness policy at local, national and international levels. This year's theme, Preventing Homelessness, examines the various ways that those working in the public, community and private sectors can collaborate more effectively to prevent homelessness in South Australia. This conference also provides an opportunity to hear updates on the 
Adelaide Zero Project
.
Conference presenters and panel members include nationally and internationally acclaimed key service providers, policy and decision makers, and academics. Interactive sessions will provide opportunities for discussion, learning and exchange of ideas.
Speakers
Speakers so far include The Lord Mayor of Adelaide, Sandy Verschoor and  Professor Chris Leishmann, Centre for Housing, Urban and Regional Planning (University of Adelaide) and keynotes:
Leslie Wise | Portfolio Lead, Strategic Communications and Jake Maguire | Principal, Community Solutions (USA): Leslie Wise works directly with communities in the United States and internationally to build and improve systems to end homelessness. During her eight years with Community Solutions, she has also led the content development and strategy for the Built for Zero initiative and piloted the design of Coordinated Entry Systems in several key communities. Built for Zero, co-directed by Jake Maguire, executes the organisation's systems change work to help communities end homelessness throughout the US and around the world. Jake is also privileged to advise and support ambitious, partner-led housing efforts in several countries. Both Leslie and Jake were involved in the 100,000 Homes Campaign, Community Solutions' flagship large-scale change effort, spearheading its successful bid for the United Nations World Habitat Award. More
Dr John Falzon | Senior Fellow, Inequality and Social Justice, Per Capita (AUS): Dr John Falzon is a sociologist, poet and social justice advocate and was national CEO of the St Vincent de Paul Society from 2006 to 2018. He has written and spoken widely on neoliberalism and the structural causes of inequality and has long been engaged in the collective movement for social justice and social change. He is the author of The Language of the Unheard (2012) and a collection of poems, Communists like us (2017). He is also a member of the Australian Services Union. More
Dr Amanda Stafford | Clinical Lead RPH Homeless Team, Emergency Medicine Consultant, Royal Perth Hospital (AUS): Dr Amanda Stafford has been the clinical lead for the RPH Homeless Team for nearly three years to respond to the need for improved care and coordination between hospital and community homelessness services for health, housing and social support. Alongside this work, the Homeless Team has been able to demonstrate significant financial savings to the hospital system, strengthening the case for further Homeless Teams to be set up across Australian hospitals with significant homeless patient cohorts.
Our Partners