Interns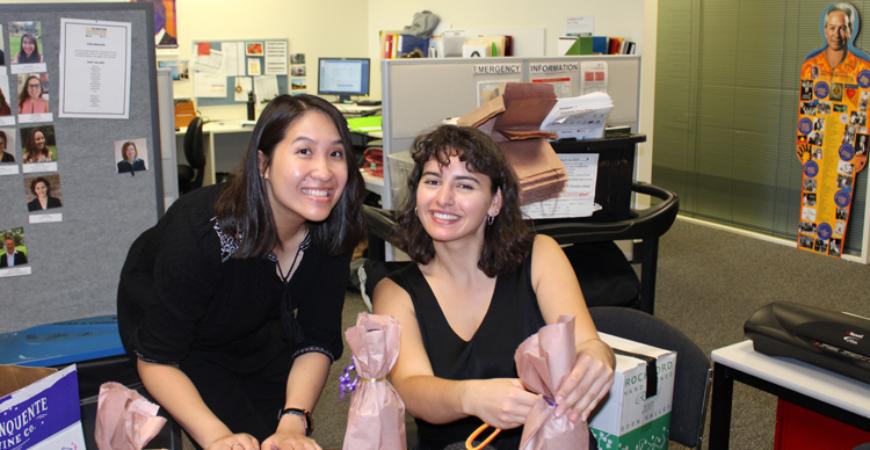 The University of Adelaide and Flinders University support the Don Dunstan Foundation to inspire action for a fairer world.
We provide students from these universities with opportunities to turn learning into practice.
Placements are open to a variety of disciplines across all faculties/colleges at the University of Adelaide and Flinders University.
Students have the opportunity to be in involved with a variety of aspects of the Don Dunstan Foundation's social justice work. Previous intern projects have included:
Research projects/Creating a Dunstan Briefs document
Event Planning/Marketing
Annual Report content writer
We are always on the look out for graphic design students with InDesign and Photoshop skills.
Internships are undertaken for course credit, though in some cases we consider voluntary placements. Commencement and duration of internships can be discussed upon contact.
For more information please contact us at dunstan.foundation@adelaide.edu.au and include your name, year level, degree/course, project interests and skills you would like to develop.
We look forward to hearing from you!
---
Testimonials
'My time at the DDF was a great opportunity to better understand the professional environment and get a variety of practical experiences. The staff are all lovely people who will greatly support your learning and endeavours whatever they may be.'
Thomas O'Donnell, 2020, Communications and Writing, Flinders University
'The whole DDF team provides such a supportive, caring and and collaborative working environment for interns and the sense of belongingness you'll feel is just incredible. The communication and cooperation between team members is what I have learned and appreciated the most. I highly recommend DDF internship because you get to observe, experience and learn how an efficient business operates and also, how to build rapport and connections with people to establish loyalty and friendship.'
Jennifer Liu, 2019, Data and Thinkers in Residence Program, University of Adelaide
'I thoroughly enjoyed my internship at the Don Dunstan Foundation. My communication and problem solving skills have significantly increased and I have been exposed to so many new social enterprise concepts. DDF has a great workplace culture and all of the staff and volunteers have been so welcoming and helpful. I would encourage everyone with a passion for social justice to volunteer.'
Ashleigh Jones, 2018 Marketing and Events Intern, University of Adelaide
'This internship has been very valuable for me as it has drawn on the existing skills and knowledge I already had, but also taught me many other things. I now feel even more prepared to join the workforce once I graduate and look forward to future opportunities.'
Mai Nguyen, 2018 Research and Events Intern, University of Adelaide