Homelessness Week Series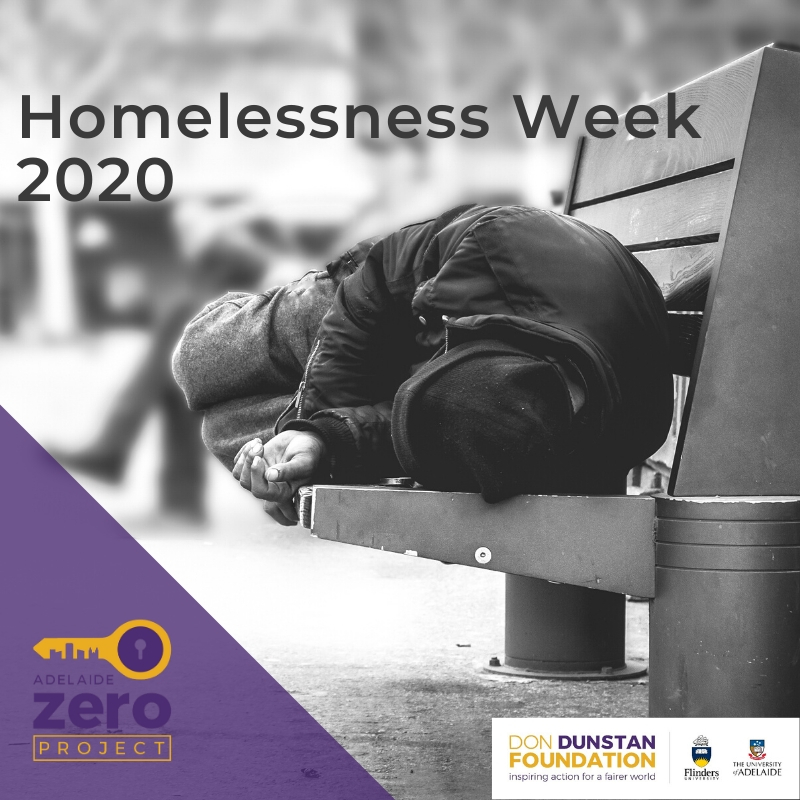 With housing issues at the forefront of people's minds and unemployment levels rising, this year may be the most important Homelessness Week yet. In the midst of this global pandemic, we are facilitating a series of dynamic online articles, events and videos to ensure this important week continues to be highlighted. There will be a special global focus with homelessness expert, Dr Nonie Brennan, joining us live from Canada. A progress update will also be given on The Adelaide Zero Project and its goal of reaching functional zero street homelessness in the inner city by the end of 2020.
Follow our social media accounts to keep up to date on the week's activities.
Monday 3 August - Dr John Falzon Opinion Editorial
Sociologist, poet and social justice advocate Dr John Falzon, joins the Don Dunstan Foundation in welcoming Homelessness Week with a commentary on the current state of homelessness.
This will be released on Monday 3 August.
Dr John Falzon - Speech - 2019 Homelessness Conference
Tuesday 4 August - Adelaide Zero Project Community Briefing
Adelaide Zero Project: Where are we now?
Online community briefing (public and sector)
More details to come.
Wednesday 5 August - Collective Impact Story
Data Audit OR Health and Housing Papers
News article on website
More details to come.
Thursday 6 August - Global Homelessness with Dr Nonie Brennan - Online Talk
Global and Local Homelessness
With Dr Nonie Brennan, Senior Advisor, Institute of Global Homelessness & former CEO, All Chicago and Professor Chris Leishman Centre for Housing, Urban and Regional Planning (CHURP), University of Adelaide

Online Webinar
Event link to come.
Friday 7 August - University Student Challenge
Student Challenge: Creative responses to homelessness
Digital Conversation/ Online challenge
University of Adelaide and Flinders University students will delve into the complex issue of homelessness and what it might look like in 2030.
More details to come.